Know Your Roots is a new section we've developed in order to honour the pioneers of our community, both past and present. Women's skateboarding is growing at a rapid rate and in order to know where we are going, it is important for us to know where we have been! And what better 'lady of shred' to being with than the one and only Vanessa Torres!
Vanessa has had a huge impact on the womens skateboarding scene since the early in the 2000's, she was the first female street skater to really blow minds after Elissa Steamer. Vanessa was the first women to win gold at the X-Games in 2003, has had multiple pro boards on both Element and Meow Skateboards and has been featured in a goddam video game! At the wee young age of 27, this little vagabond has lived a life larger than most and is likely to continue doing so well into the next decade. Where does one even go from here after achieving so much? Read on to find out!
Tell us a little bit about what you're up to right now.
Still living in LA! Been nannying pretty full time for the last year and a half with the occassional skate contests in between, for that extra cash and good times! I spend most of my time off in Long Beach hanging and skating with Amy. Life is blah sometimes, but I don't have too much to complain about so I guess you can say, life has been good, just constantly on that grind!
You just got back from the Kimberly Diamond Cup in South Africa, which seems like a pretty random place to hold a World Cup event, tell us a little bit about this event and your adventure.
So random! Honestly, I had never even heard of this contest, but that's probably because this was the first year they added a women's skate event. 32+ hours of layovers and 3 or 4 flights later, I landed in Kimberley, South Africa. So wild to think skating brought me there. Anyways, the KDC crew lined up a couple of super rad touristy gigs so a bunch of us got to pet lions and cheetahs and go on a 2 hour safari packed with rhinos, gazelle and zebra. UNREAL. That was probably the highlight of my whole 5 days out there cause I skated like absolute shit in the contest, haha!
I noticed you had a KickStarter fund going to get you over there! It still blows my mind that the best female skateboarders in the world receive so little financial backing, why do you think this is and what do you think it will take in order for it to change?
When I originally got the invite to KDC I was super stoked, but then it hit me, HOW THE HELL AM I GONNA GET TO SOUTH AFRICA?! My brain was actually working that day and I thought, well, why don't I start one of those GOFUNDME thingy's? Personally, I thought it was a huge shot in the dark, but so many people got behind it and it was truly inspiring. As far as the lack of financial backing goes, a lot of us don't ride for huge corporate companies, including myself, but I actually prefer it that way. It does make opportunities like KDC a little harder to obtain though. I'm a huge supporter in skater owned, mom and pop companies like MEOW and Lisa does a lot for the team, but growing a new company takes time and money. Basically, what I'm trying to say is, the companies I ride for don't have crazy budgets for travel expenses, like a flight to South Africa. Does any of that make sense? Haha!
In 2003 you won the first ever Womens X Games, how did that feel taking out such a huge comp at such a young age, what impact did it have on your life?
I was more hyped on getting to skate with Elissa! Winning that event pretty much skyrocketed my skate career and it seemed like it took place in a time where girls were slowly making their way out of the woodwork with some serious talent and potential and I think companies were looking for that. For the next 5 or 6 years, I was just on a traveling rampage with Element and Globe skating all over the world. It was definitely fun while it lasted, but alas, I kind of got burnt out and skating didnt really seem as fun as it used to be. Don't get me wrong, I feel privileged to have been given all of these amazing opportunities and I took full advantage of most of them like any other 16 year old kid!
How does your outlook on skateboarding and life now differ from then?
I still love to skate and travel, but more important life obligations have come into full affect since riding for huge companies and my contracts with those companies coming to an end. I nanny for one of my longest and dearest friends now and usually keep it pretty local in LA with the occasional weekend dip out to hang with Amy and friends in Long Beach.
You spent a lot of time in Australia as a young cat, what drew you to Australia and what is your take on the ladies skate seen out here? Can we expect to see you back anytime soon?
Ahhh! I fell in love the first time I ever had the pleasure of traveling there! You guys just have the raddest vibes and so many fun places to skate. Why wouldn't I want to purposely miss my flight and extend my ticket to hang for a few months?! The ladies skate scene kicks ass just as much as it does over here. It's all about comradery when it comes to us ladies and I feel like thats how we progress. I always get hyped when you guys come over to visit this side of the world and I'm hoping I can come back sooner rather than later! Super jealous Lacey is headed your way this weekend! Take good care of that little bb!
Talk to us a bit about Meow Skateboards, what is it like to be involved in one of the first companies of it's kind in history?
Seriously, being a part of MEOW is so much more personal than being part of a big corporate brand. So rad to be able to say, I actually came up with the concept for my first pro graphic and a dear friend sketched it out and painted it. I can probably speak for everyone thats involved with MEOW. Once again, comradry conquers all and we have a kickass team that each bring their own unique taste and talent to the brand. I'm just stoked to be a part of something that Lisa founded, shes a legend to us all and has done so much for all of us ladies, for so many years.
What do the next 5 years look like for Vanessa Torres.?
Saving as much money as I can and hopefully bringing my brand to fruition! YEOW!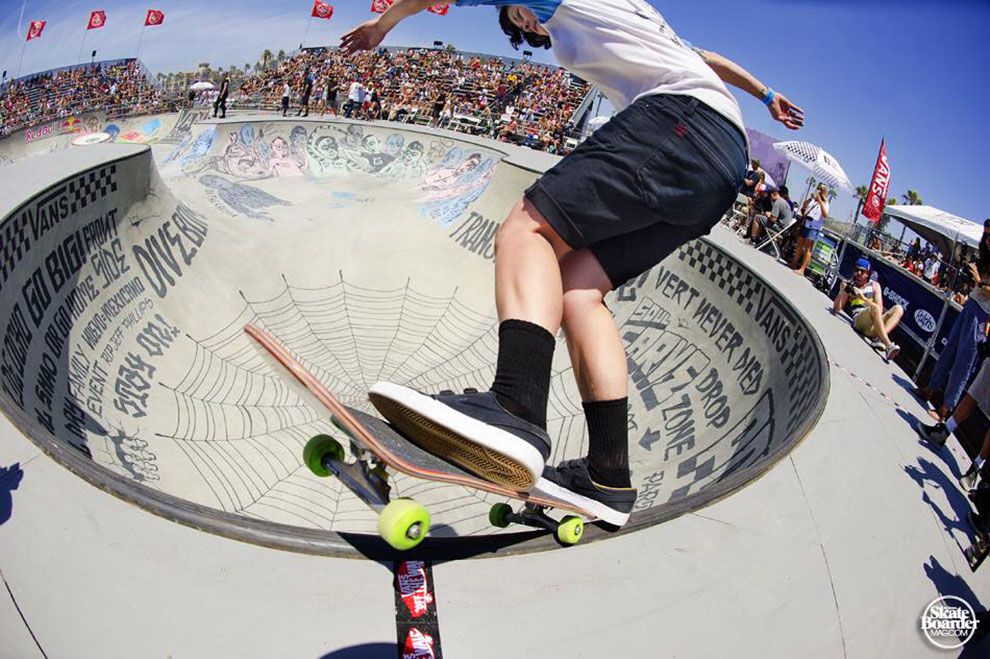 PHOTOS:
Featured Photo: Rob Meronek
FS Ollie: Brian Fick
Crooks: Shari White
BS smith: Chris Whitaker
Backside 5-0: Jaime Owens