Each year Girls Skate Australia put on Australias only professional female skateboarding event. The events are in their 5th year running, gaining more momentum, followers and support each year. Night of the Living Shred 2013, was no exception with 30 competitors from all over Australia travelling down to Melbourne to battle it out for over $3000 worth of cash prizes.
Shanae Collins took out this years event, blasting around the course with true strength, style and speed, Shari White coming in 2nd and Kat Williams an extremely close 3rd. Special shout-outs go out to little Hayley Wilson and Taylor Buchan proving to us all that the future of ladies skateboarding is alive and well in Australia and in very good hands!
Big thanks go out to all of our sponsors who made the day possible, Redbull, GMTA Skateboards, Herschel Backpack Supply Co., Project Distribution, Spitfire, Skatespots.com.au and Dekline Footwear.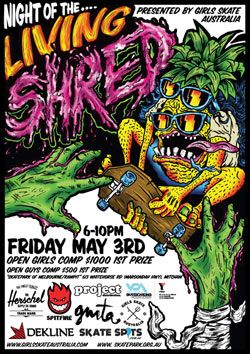 RESULTS
OPEN

1st. Shanae Collins
2nd. Shari White
3rd. Kat Williams
4th. Monica Shaw
5th. Shannon Cranko
6th. Georgina Brooder
UNDER 15's
1st. Taylor Buchan
2nd. Hayeley Wilson