My trip to South Africa to compete in the Kimberly Diamond Cup (KDC) came about randomly and extremely fast. Izy let me know about this opportunity and a couple of emails later the invitation was there. Working out money and flights was the biggest mission,  massive thanks go out to everyone who helped out and supported me the whole way, you bloody legends!
After a 32 hour flight I arrived in Kimberly to be picked up by Chinner he's the guy they have that lives there all year round to keep the kids skating and out of trouble. He is the raddest dude ever. He took me to the hotel were I would be staying at for the duration of the competition and where I met the Kimberly Diamond Cup (KDC) Crew responsible for ensuring that everything went smoothly.
After meeting all the people who make the KDC a possibility I went to meet my fellow competitor and new roomie, Julia Brueckler from Austria. Its always kinda nerve racking bunking in with someone you have never met but she was super rad and we had alot of fun together and shared some great conversations.
The hotel was awesome, I wasn't sure what to expect but I was well looked after. Ordering food was always interesting, one day I ordered a chicken burger with pickles on the side and I ended up with bangers and mash with pickles on the side. It kinda became part of the experience not knowing what you would get and if it would take 20 minutes or a couple of hours, it definitely created some laughter though.
The following day one of the organizers, Mark took us to an animal farm. There where Monkeys, Birds, Meer cats and lions to name a few that that we got to watch feed. I wont show you that photo because its kinda intense but it was a crazy experience watching these amazing majestic animals devouring everything right in front of you. At one point a lioness snuck in and took some meat before the male lion had finished and he started a chain reaction of roaring that echoed across the land.  I felt sorry for these lion cubs they hadn't been around humans much and got scared so they jumped in the trees and growled at us.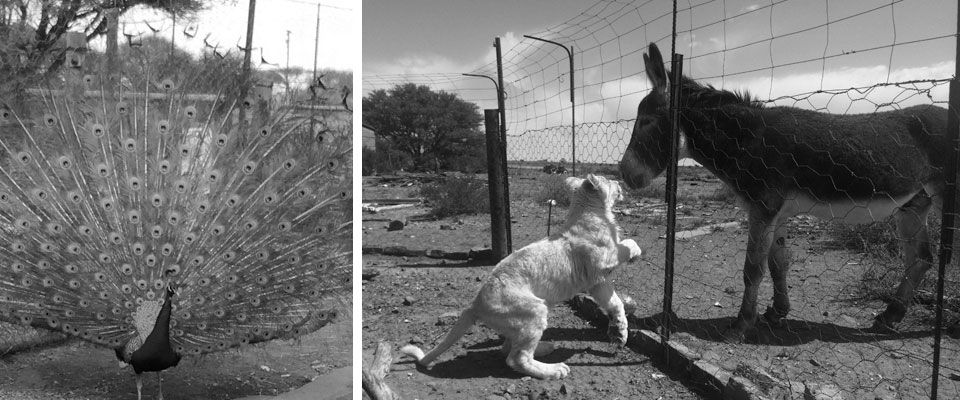 Chinner and Saun had mentioned that the flamingos where something I had to see while in Kimberly and they where right. I was expecting 5 or 6 in a small pond but what I saw was far from that. I was greeted with Ten Thousand flamingos in a giant lake and the coolest bit was when we got closer they all started to fly away, it was mind blowing.
The next day we woke up early and went for a roll at the insanely amazing skatepark. Elissa Steamer and Marisa Del Santo got in that day and both ended up being the raddest characters to hang around. Luckily the skate park was a short walk or bus ride away from the hotel and had huge football stadium lighting for night riding because the days where hot and dry. During the days I would get little sessions in when they weren't painting of setting up the park. We also visited the sites and attractions including the Kimberly Diamond Mine site, which was a giant hole that used to be the biggest Diamond mine operating in the world.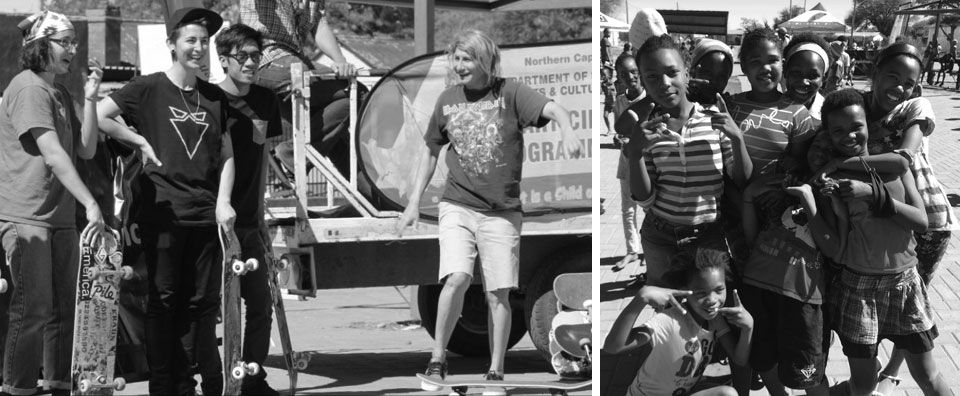 The next day we got up early and headed out to the Felidae Centre. They are doing amazing things for the South African wild life. I heard some amazing stories but I won't put them in, in fear of giving the wrong information, but check out there website, they're doing wicked stuff. http://felidaecentre.co.za
I arrived in Kimberly a few days earlier so that I could assist in the KDC clinics held in the townships. The KDC are doing amazing things throughout South Africa and not just in the time surrounding the comp. They are here year round running programs helping kids pave a brighter future for themselves.
The sessions where so chaotic and amazing at the same time, there where kids everywhere grabbing skateboards and flying all over the place having so much fun. A few of the kids where carrying babies and it was really sad because there was no one who could hold the babies and that meant the kids missed out on having a go. These kids don't have much at all but to see their faces light up as they skated was amazing. The bus ride with everyone back to the hotel was silent as everyone processed what they had just experienced, its allot to take in.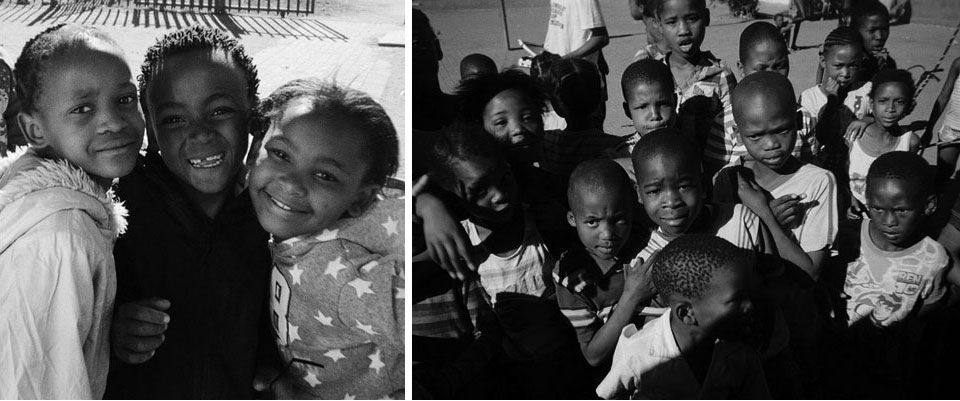 Marrissa wanted to get a photo on the way out of one of the township so we pulled over at a local shop. All the locals came over and just passed their kids over so that they could be in the photo. It was a weird experience to have a stranger just hand over their child with no thought about it.
Its defiantly a different world in South Africa and it was a truly incredible experience to see how skateboarding can affect a community. Looking back at the photos im not sure who had more fun at the clinics, me or the kids.
The days all started to blend into themselves after that. Lacey and Alexis arrived followed by all the other contestants and it was then that the town really started to wake up. We all went on a Safari the morning of the comp, I wasn't sure if we where going to get to see anything but after driving for a bit we saw some zebras and then we got lucky and was the rhinos.
The comp was a pretty crazy experience, we had done and seen so much at this point it was kinda just another crazy thing in a crazy day. Safari in the morning, comp at night, no big deal, haha.
When there's a massive camera in your face and crowd of excited spectators in the stand, it all of a sudden started to feel a little bit different. My knees start wailing, breathing changes and mind goes out the window! It was a super fun and nerve racking experience.
It all ended as fast as it begun, 4mins and it was all over. I smashed my head so hard that I didn't know what was happening so everything is a little foggy after that. We watched the opening ceremony and fireworks display and had some cheeky beers, but kept it pretty mellow. I was surrounded by 100s of skaters everyday, everyone was sore and tired but keen to chill. Shit I am Lucky that I got to meet the most amazing people and had the most insane adventure. When life throws you a chance, grab that shit and don't let go.
Thanks, Kat