Amelia Brodka is an incredible young woman hailing from California. Amelias strong, independant and inquisitive character led her to create one of the most important documentaries for women in skateboarding of all time. Both the brains and braun behind EXPOSURE the documentary and event, Amelia has single handedly done more for women in skateboarding than most of us can only dream of ! GSA is honoured to have had the opportunity to sit down with this young lass and pick her brain about how we can all collectively help to grow the visibility of women in skateboarding.
Talk to us a bit about the underexposed documentary, what is it about, how did the idea for it come about?
Underexposed: A Women's Skateboarding Documentary explores the growth of women's skateboarding in contrast with the way in which women's skateboarding is perceived/supported by the action sports industry. It came from my experience of seeing more and more girls skateboarding at a higher level and simultaneously witnessing opportunities for girls and women in skateboarding dwindling. I wondered where the disconnect was and I just wanted a way to show people that women's skateboarding is growing on a global scale but there didn't seem to be any way for girls to pursue their passion. I wanted to use the documentary as a vehicle to figure out what can be done to help support this growing movement of girl skaters.
Were you met with any resistance whilst filming it? What are some of the obstacles which you overcame in order to get it out?
I feel like most of the resistance I faced was purely personal. I had a hard time lining up some interviews but the ones I really wish I could have gotten were  interviews with ESPN/X Games, Vans and FUEL TV. Besides that, I was pleasantly surprised to be able to connect with Thrasher, Ed Templeton, Elissa Steamer, and other core characters. I was most resistant to putting myself in it. The first version of the film is a 45 min edit of just interviews and skating with no story. It took a year of Brian Lynch convincing me to be in it and then reviews from test screenings I did at USC to get "my story" as a part of it.
Have you seen any changes in the industry since the documentary was released? What are some of the changes you'd like to see develop over the next few years?
I've certainly seen a lot of changes that have happened to occur after the release of the film, but I wouldn't be as bold as to draw a direct correlation to the film. I have definitely seen women's skateboarding blow up in the past few years and it has been a cumulative effort of all of the girls pushing the level, women running similar nonprofits that get more girls on board and more and more female-oriented skate companies popping up. Everyone is working hard to make it all happen! I am seeing more and more support from core skate companies and media as well as non-endemic companies coming in to support the girls. There are a few more events popping up such as the Van Doren Invitational as well as Women's Street making it to the Kimberley Diamond Cup. Leticia is on Nike and Lizzie tours with Tony Hawk to show girls all over the world that they can skate too. I'd say that things are only going to get better from here!
Tell us about Exposure the event, how long has it been running and what is the reasoning behind the event?
The first EXPOSURE event was in 2012 and we just had our third annual event. The purpose of EXPOSURE is to create opportunities for women in skateboarding and to increase visibility for women's skateboarding. We also seek to empower women by promoting a healthy & conscious lifestyle through the types of booths we feature at the event (Organic Kombucha instead of energy drinks, vegan nutritional bars, B4BC, Surfrider, etc.) and we act as a fundraiser for the local shelter for survivors of domestic violence, Carol's House.
I know from personal experience that raising the funds for a womens skateboarding event is not always an easy feat! How do you raise the funds for the event?
I go to a lot of expos, trade shows, conferences, fairs and networking events where small businesses and companies are looking for new marketing opportunities. I go to any booth that might align with sports, fashion or a healthy lifestyle and talk to them about buying a booth or sponsorship package for EXPOSURE. I have also set up EXPOSURE booths/demos at events. I look for grant opportunities that we can apply for.
EXPOSURE also has an absolutely incredible team of volunteers that does the same. They all reach out to their connections to align us with companies and businesses who want to sponsor the event or donate to the cause. We also get a lot of private donations from people and families who strongly believe in our vision. The level of support we get from people is really astounding!
How has the event progressed from it's beginnings to where it is now? What do you see for the future of the event? We'd love to see something of it's kind out here in Oz!
I can hardly believe how much the event has grown! It was really amazing to see over 50 girls skating in the contest and nearly 50 additional girls skating in the clinics at EXPOSURE 2014. I was blown away by the amount of sponsors, attendees and media we received this year. It felt really good to be able to offer the largest prize purse in women's transition skating as well. I am incredibly grateful to see so many people who really believe in the vision and growth of the event. I really would like to be able to travel with this event and give girls outside of CA who are not able to travel the opportunity to participate. I would also like to include street. The logistics of moving outside of CA are extremely challenging but with the appropriate funding we can begin to see if we can make it work without compromising the success of the event.
What advice can you give to all the ladies who skateboard out there who want to be pro-active in helping to grow the visibility of women in skateboarding?
Support each other! The greatest thing about girls' skateboarding is the incredible camaraderie between all of the skaters. It feels like a big family spread across the globe. Support each other and the support will come back to you! And most importantly, please have fun on your skateboard.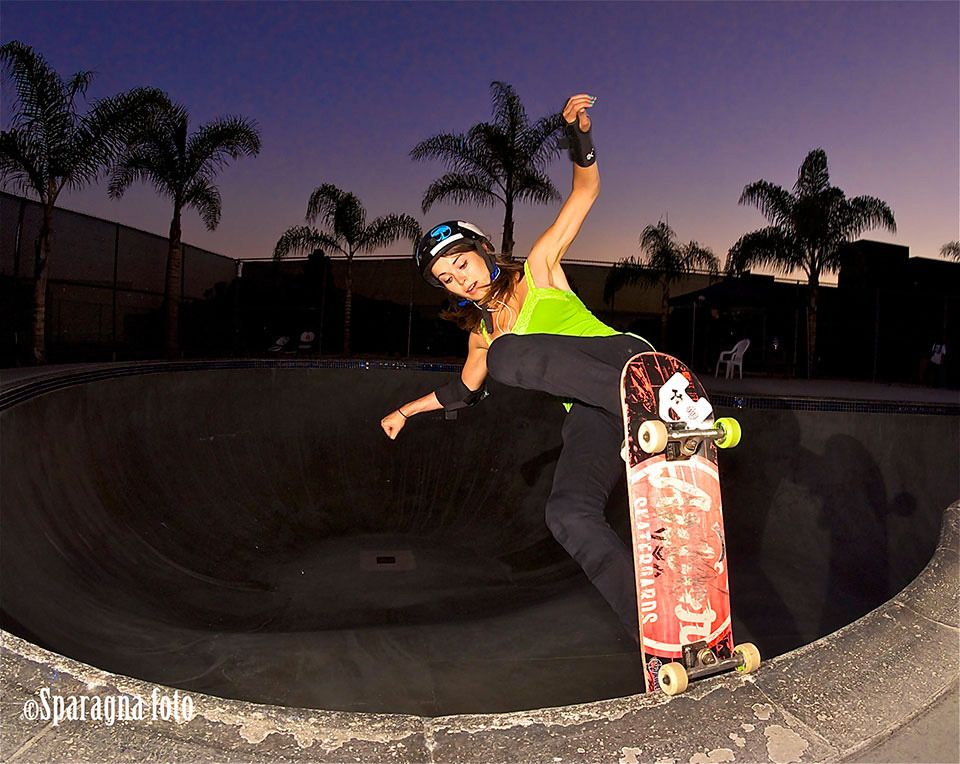 Photos: Dan Sparagna